Collection: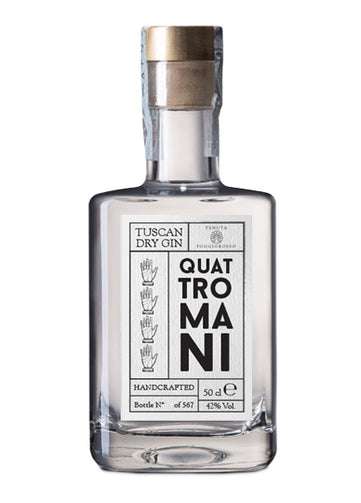 Collection:
QUATTROMANI dry Gin - 0,50 L
QUATTROMANI dry Gin - 0,50 L
Regular price

Sale price

$52.48
Tax included.
QUATTROMANI is a gin enriched with 7 botanicals, selected and hand-picked from the Tenuta Poggio Rosso estate.
Only native shrub and herbaceous botanicals present on our land to replicate the heady, intense and balsamic scents of the Mediterranean vegetation along the Populonia and Baratti coast in Tuscany.
An high quality Gin, created in collaboration with the world's most award-winning master distiller, Priscilla Occhipinti, and distilled for Tenuta Poggio Rosso by her hands in the renowned Distillerie Nannoni Grappe Srl in Civitella Paganico (GR).